Newbie 50+
Posts: 93
Joined: Sun Feb 25, 2007 10:30 am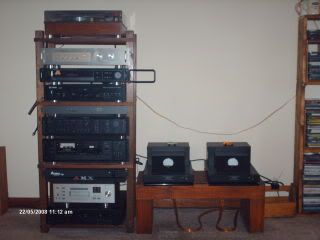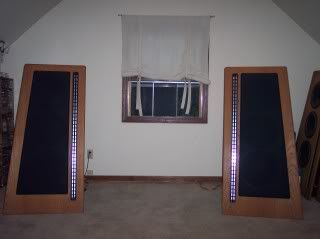 AND.......If anyone needs to know.......I deny ANY knowledge of the folowing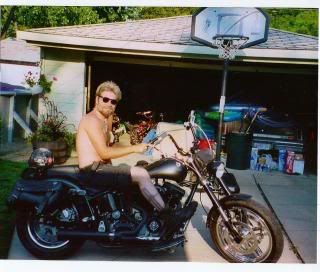 Keeping the MaddMan in check.
---
R.I.P. Friend

Posts: 13360
Joined: Sun Jan 14, 2007 11:53 am
Location: TN Native Languishing in VA
Contact:
Shweeeeeet! What are the two silver components?
TNRabbit

From FrankieD's lips to your ears: Sunfire - a quiet box of endless power.

Sunfire TG-IV/400~7 Amp
Carver SD/A-360 CDP
Benchmark DAC-1
Sony SACD/DVD-A
Active bi-amp: Ashly XR-1001 & 2 Rane PEQ-15s
Main: HotRodded AL-IIIs
Sub: Klipsch RT-12d
Center: Sunfire CRS-3c
Surround: Sunfire CRS-3 (x 2)
OconeeOrange wrote:

"Gary likes to play it 'loud' as do I. His system begs you turn it up until you die"
RIP WIlliam B. Dibble, 1948-2012. I'll miss you my friend.
---
Very nice sytem.
engtaz


Carver M4.0T in front channels to Caver AL VI's in SACD & 2 Channel setup
C 16, PT 2400, Slim Device, Carver TX-8, 490T and Rega TT w Grado Gold cart in the 2 channel setup
Bogen SRB20 is computer amp
Carver PM-350 donated for youth church use
---
SILVER-7t
Posts: 1045
Joined: Tue Feb 12, 2008 7:29 pm
Location: Fairhope, Alabama
snarffydoggy
---
SILVER-7 TUBE AMP
Posts: 3565
Joined: Thu Nov 15, 2007 7:26 pm
Location: 4th Tower of Inverness
Very nice,, looks like you could "settle in" for some serious tunes.
---
Great looking setup you have.
C-4000, M-200t, TX-11a
---
(Pair of Silver 9t's)
Posts: 2951
Joined: Wed Oct 27, 2004 6:18 pm
Location: the World We Skate Our 'Choppers' Thru
-wow, pretty sneaky mouse
-ar xa modded
-flame linear 1000 series 2
-tx12
-jolida jd100 modded
-c9
-c16
-geist power centre [rack ears]
-reference 8 tracker
[removed a tfm55/ a760x and needed ballast]
-chi com dual deck cd burner
-beloved lil bros rack...so i must keep her...and stage right 9's [havent blu lighted or added binders yeti]
-* © Küül ®™ /mx...
-
Too hip gotta book
-"Don't
BAN
me Bro!"...el/doro
---
Looks nice.
Who's that with the knife tattoo?
Upstairs:
VTL MB-250 Signature monoblocks, Sonic Frontiers SFL-2 preamp, HHb BurnIt Plus, Well Tempered Labs Classic, Ortofon 2M Black, Jolida JD-9 Phono Preamp, Sherwood S3000-IV tuner, VPI-17, Jolida JD-100, AKG 701, Beyerdynamics 881, NHT SW1-P subwoofer and amp, Magnepan 1.6, APC H15
Downstairs:
VTL DeLuxe 300 Monoblocks, Harman Kardon F500x tuner, Sonic Frontiers SFL-2 preamp, Jolida JD-100, Oppo 981, Otari MX5050 BII, SVS SB-12 subwoofer, Magnepan 3.6
In Storage:
Stax Sigma headphones, signed DTL unit, Magnepan MMGs, Carver TX-11, TX-11a's

---
(pair of) SILVER-7 TUBE AMPs
Posts: 6129
Joined: Fri Mar 17, 2006 10:00 pm
SteveFord wrote:Looks nice.
Who's that with the knife tattoo?
That's the God Father of Dark Town.
---