Hello all, name's Luke. I just bought my first Carver product last night
(go ahead cheer) its a TFM-35 it is also my first standalone power amp. Not to say i haven't been wanting one, well,... forever. My dad had a powerful 2 channel amp when i was growing up (technically he bought it before i was born) that had both analog and digital meters, and i have been fascinated by meters on amplifiers.
I was doing some research before purchase and i really liked the vibe around here, i have to say it probably slightly influenced my purchase. That, and the deal i got on this thing :P
Its a CL Purchase from the original owner. i think he wanted to be a dj once upon a time, but then family time hit and this thing sat around alot. (he was also selling some mismatched dj speakers and a mixer/recorder)
I snagged the TFM-35 for $100
and the Kenwood KT-880D tuner he auditioned it with for $20
At the audition he had the Kenwood hooked up without an antenna and it still sounded pretty decent even hooked up to his 2 bookshelf and 2 mismatched dj speakers.
so generally finding a guy with 4 random speakers hooked up to an amp i'm about to buy, i'd get a little leery about his normal gear practices, but at this price i figured i could afford to get it repaired and still come out ahead if there was something wrong with it. and from the look of the speakers they didn't look like much of a match for the amp anyway.
Did some first chance listening last night and immediately everything was right with the world. super happy. got it opened up tonight to take a look around inside, and snapped some pics so here: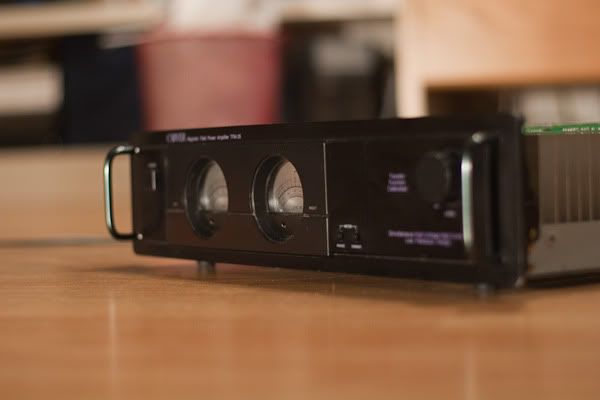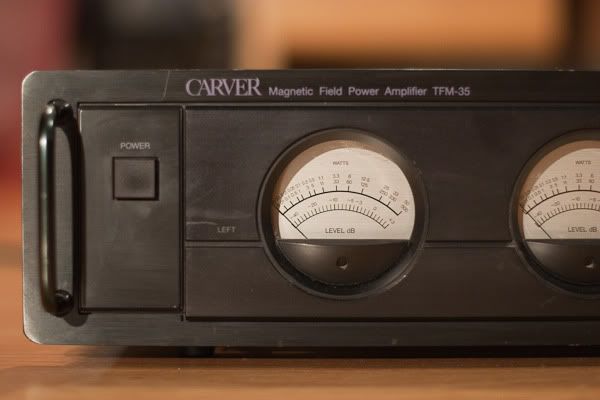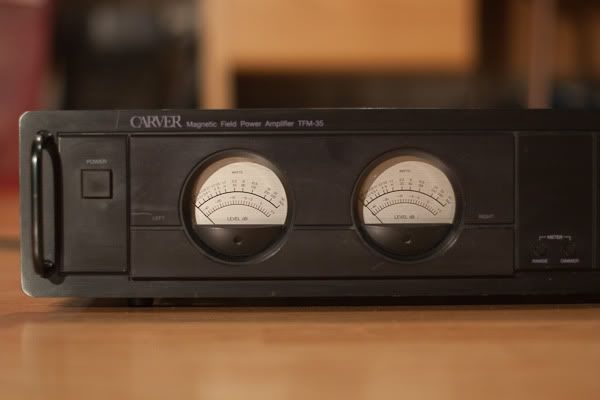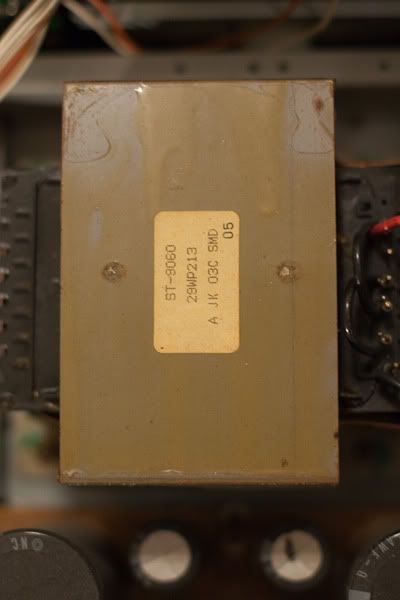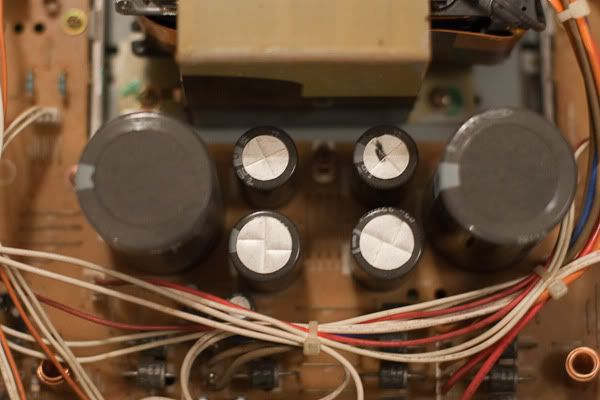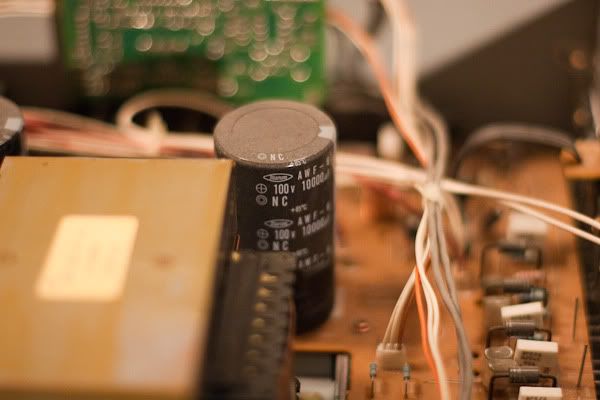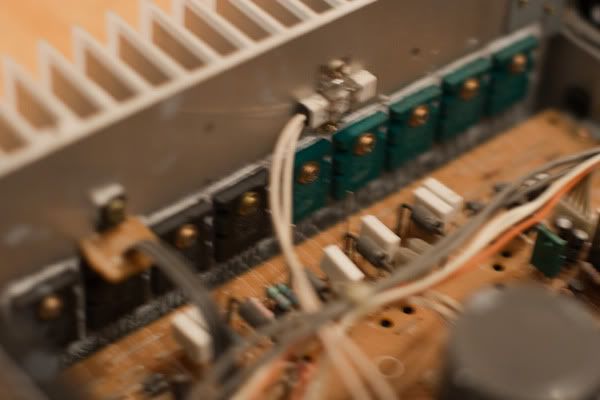 I think it looks pretty clean inside. there was a small layer of dust, some of which came off with the canned air, some didn't. I really like the layout inside, especially the heatsinks being so far apart, although i figure thats probably common on amps.
All the dials and lights knobs and buttons work
and also it was made in Japan, not sure if they all were of this model or some here some there, i've read so much in the last week that i'm starting to get things confused.
I'm going to have to look around a bit on the forums, but I'm curious about the [here is where my lack of amp knowledge is going to shine] black and green pieces conected to the heatsinks. they are about half black and half green on each side, is this normal?
I wouldn't say i pushed it, and i definitely didn't have it loud for very long, but it was playing at low volumes most of the evening last night, and the thing didn't even get warm
cool as a cucumber
So, i originally started looking for a standalone amp to improve the clarity of my center channel speaker by either:
A) amplifying my center channel, or
B) amplifying my front speakers thereby relieving some of the load from my receiver and allowing more power to the center. although just last night as i was moving things about trying to make room for the carver, i noticed it says right on the front of my AVR "DISCRETE 7CH AMPLIFIER" so i'm not so sure about this method helping out the clarity of my center channel speaker. thoughts?
so far i've only done stereo listening with the TFM-35 connected to my front speakers which are Polk Monitor 10B's
Tomorrow i'll probably play with hooking the TFM up to my Center which is a Polk CS350LS, i really hate the idea of "wasting" an amplifier channel, but the speaker's recommended power is 10-250W and i think the bridging would be way overkill, but i have no experience so input on this would be great too. i've read that bridging may be less desirable sonically, but not sure the authority of the posts i read that in.
So far besides flat out decisions that i need to make, this amplifier has presented me with two problems, one concrete, and the other, well ... zen.
Problem #1: Size.
This may look like a rack, but its a TV stand. I live in a 1 bedroom apartment, i dont have room for a rack. and frankly...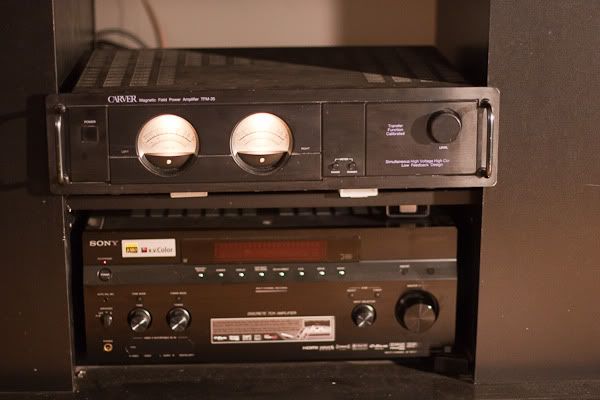 It doesn't fit! The faceplate is about 1/2" too big, and this causes the feet to hang over the front of the shelf. causing the amp to sit at an angle and have way less than ideal ventilation. for now i have offset this by propping the front up with two plastic toothpick boxes, being careful not to cover any vents on the bottom. i think with this one i'm just going to have to wait till i move into a house and get real furniture.
Problem #2: Integration.
Every part of my home theater works together in virtual unison. My receiver remote can control pretty much everything connected to it, including my Media PC, turning on the TV turns on the Receiver over HDMI, or pressing play on the Blu-ray Turns on the TV and Receiver, etc. etc. Turning off the TV turns off Everything with one button.
This brings us to the newest addition the TFM-35. My Sony Receiver is a STR-DA5300ES which does NOT have a switched outlet on the back. (not sure i'd want the amp running through the receiver anyway) It does however have a 12v trigger. I wasn't able to get the search function to work last night, lots of server error type stuff, and when it did work it wouldn't search most the categories, i got results like TFM-35 Does not exist on ANY pages. So I'm wondering, do most people just leave amp's like this running? I will definately not be happy with my setup if i have to turn the carver on and off every use, as i use my setup pretty much daily, everything else just plays so well together. If its ok to just leave on, what kind of amperage is it pulling while idle with no signal?
The other solution besides leaving it on would be to find a power conditioner or surge protector that has either a 12v relay on some banks, or a current switching bank that can switch other banks. so far in the bit of research i have done on products like this i've mostly found things which i find to be way overpriced, or sort of dinky looking. maybe somone has a good suggestion? also keep in mind i'm a pretty young guy, living in LA and work here has been.... well pretty slow lately, so i'm looking for a low cost option if possible. also considering i got my 5 speakers and carver amp for <$325 i cant really justify going out and spending an equal amount on a switchable power source.
ok. so if you made it this far.... sorry it was so long. I'm looking forward to being involved in this forum and super happy to be a carver owner now
also looking forward to any opinions on how to best use this amp in my setup.
Cheers,
Luke