This one goes back many years ago. Looks like my C1, TX11, m1.5t and a TFM-35.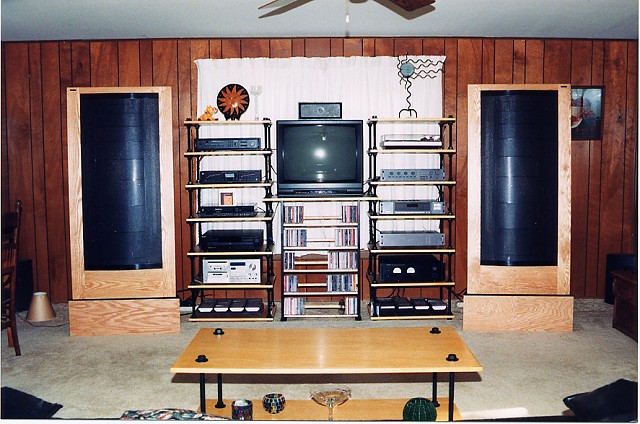 ~There are many roads to audio nirvana. While the ultimate goal may be the destination, don't forget to enjoy the ride.~
---
Sweet the speakers look great.
engtaz


Carver M4.0T in front channels to Caver AL VI's in SACD & 2 Channel setup
C 16, PT 2400, Slim Device, Carver TX-8, 490T and Rega TT w Grado Gold cart in the 2 channel setup
Bogen SRB20 is computer amp
Carver PM-350 donated for youth church use
---
R.I.P. Friend

Posts: 13360
Joined: Sun Jan 14, 2007 11:53 am
Location: TN Native Languishing in VA
Contact:
Beautiful!

All my old pics are in here somewhere.....
TNRabbit

From FrankieD's lips to your ears: Sunfire - a quiet box of endless power.

Sunfire TG-IV/400~7 Amp
Carver SD/A-360 CDP
Benchmark DAC-1
Sony SACD/DVD-A
Active bi-amp: Ashly XR-1001 & 2 Rane PEQ-15s
Main: HotRodded AL-IIIs
Sub: Klipsch RT-12d
Center: Sunfire CRS-3c
Surround: Sunfire CRS-3 (x 2)
OconeeOrange wrote:

"Gary likes to play it 'loud' as do I. His system begs you turn it up until you die"
RIP WIlliam B. Dibble, 1948-2012. I'll miss you my friend.
---
TFM-35
Posts: 492
Joined: Wed Apr 23, 2008 5:17 pm
Location: Bolingbrook IL
Contact:
and before that it was
---