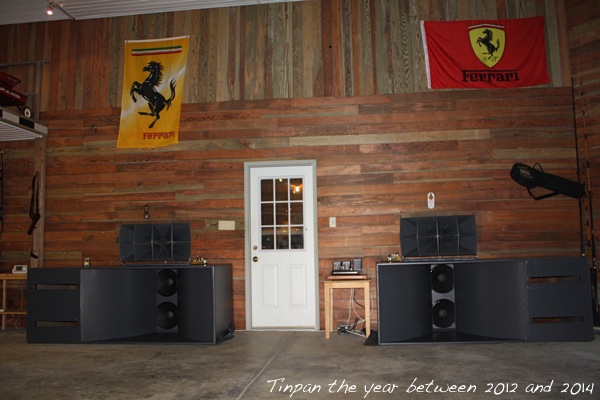 I finally finished my Altec A210's last Saturday. It look all day to wrestle 4 GPA 515 drivers into place. I was concerned that I was going to have to send them back and have Bill trim the frames, but with the existing cutouts in the cabinet, they fit ...just barely.
I moved the 803 horns back from the house and Pete's crossover so I can begin listening to them while I work on the 1003 horns. You can see one of them on the work bench in the background.
For power I am using Bob Carver's VTA 20 tube amp, this is serial number 2 btw. I think it found an appropriate home.
Here is the left speaker. They are supposed to stand up, which I will try later. My concern with standing them up is I would have to stand in the back of the garage to get the angle on the horn correct. They would be eight feet in the air
Here is the right speaker. I'll have to order a certain song, which I will explain why later.
I can't wait for Saturday when I'll get some time to teak the system a little. For right now though, the sound if pretty good from 20 feet away.